To make sure its network is made of highly performing professionals, WYZ Group is now offering an e.learning platform. Like its other tools, the platform will serve as a trusted third party for clients.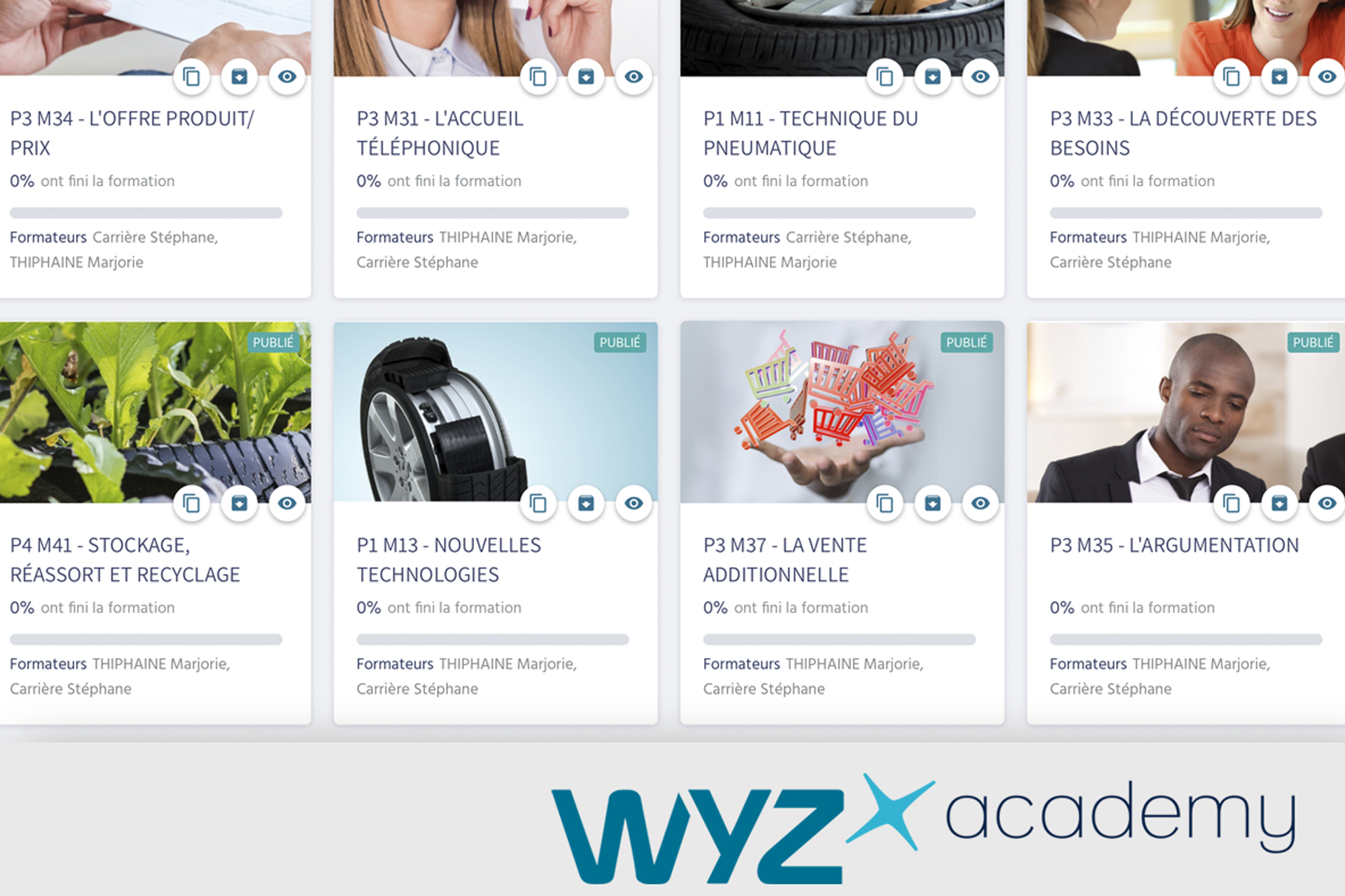 Whether is is general knowledge on how tires are made, information on how logistics works, specific data on equipment replacement, training for direct and phone sales or tests for pressure sensors, the new e.learning platform launched by WYZ Group in September 2019 meets all these clients' needs. 
WYZ Group's ambition is to ensure that seasoned employees or newcomers as professionals of all trades involving tires master their environment as well as new techniques, in order to perform even better. So, it was only natural that such a platform would be launched, alongside other tools (software to place orders, control maintenance and issue estimates for clients, to name a few). As with these first tools, which enabled the company to be a trusted third party, the e.learning platform will play the same key role.
Professional trainers
Aware of the fact that the profession needs training as well as a neutral training partner, the WYZ Group's team started designing e.learning tools in 2016. It called on Dokeos to help in the process. Since 2004, Dokeos has been offering training platforms so clients can improve and monitor their employees' skills and knowledge. WYZ Group also partnered with professional trainer and Astec manager Stéphane Carrière to put together content and videos and produce modules dedicated to various specific trades as well as situations that tire professionals may encounter in their everyday activities. These efforts resulted in the WYZ Academy platform, so far made of 20 modules, each module being 15-minute long. They will be offered to manufacturers' and dealers' employees for their training. Like all its other tools, the new WYZ platform is user-friendly and includes questions and answers enabling users to check their newly acquired knowledge. The platform also shows them the result and if users realize that they don't master everything yet, they will go back to the module and then test themselves again. In other words, the platform users are responsible for their training and employees become actors of their professional evolution. If the trainees succeed in the tests, the software automatically issues a certificate that shows training has been completed to HR professionals, who are now WYZ Group's new contact points.
In order to ensure early adoption, WYZ Group opted for reasonable prices and centralized invoicing, as well as flexibility and transparency, which are at the heart of its marketing philosophy for all its tools. Car manufacturers and / or after-sale networks can choose between three different packages:  technical, sales and marketing and logistics. Prices will take into account the number of dealerships and after-sale outlets. The WYZ Group's team is confident that first users will quickly be followed by numerous others, since the platform really meets clients' needs. All will be able to enjoy the WYZ Academy to improve knowledge and performance as early as September 2019.