The celebration of WYZ Group's anniversary took place on Feb. 7 at the Stade de France, near Paris. An arena that symbolizes the company's team spirit. With a special guest: Teddy Riner, who holds 10 world-champion judo titles. The perfect match for WYZ Group's 10thanniversary!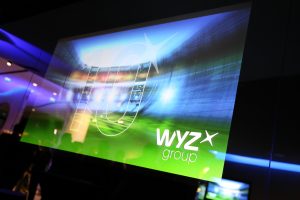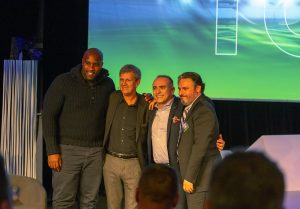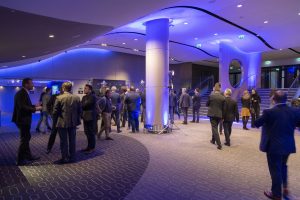 He came in discreetly. But the suspense was short. Sports journalist Patrick Chêne, who was as usual the MC for the event, which took place on Feb. 7 at the State de France, had actually given some clues. There was to be a surprise guest to celebrate WYZ Group's 10thanniversary. And who could be better than Teddy Riner, who holds 10 world-champion judo titles, a record, not to mention his olympic titles? "My goal is to win a gold medal at the 2020 Tokyo Olympic Games," the champion stated, with his characteristic mix of determination and benevolence. Such a medal, in the country where judo was born, to later become a worldwide phenomenon, thanks to champions like Teddy Riner, would be indeed a real consecration! 
Full of joy and good feelings, the WYZ Group's evening was, like it always is, designed to thank customers, investors, friends and employees alike, who have all supported the company to make it, over 10 years, the jewel it is today. Like Teddy Riner, Pierre Guirard, the Group's president, also shared his ambition: to reach over 50 million euros in revenues in 2020 (after 35 millions in 2018). WYZ Group is on the right track, with a 35% growth performance every year over the last five years, subsidiaries opened in many European countries, dozens of clients, and among them, prestigious constructors and industrial companies, as well as motivated employees (50 at the moment and more to come), disruptive solutions and, above all, a vision. A vision driven by Pierre Guirard and General Director Eric Duplanil. The two men have been teammates since day one of their entrepreneurial adventure. Things were not always rosy at first, and the entrepreneurs remembered on stage how they first visited some 200 potential customers to promote their new tire-sourcing platform and how, every single time, the answer was "no". The world was in the middle of the 2008 economic crisis and clients were hard to convince. WYZ, however, pivoted and success came.
Vision
No wonder both Guirard and Duplanil wanted to thank their supporters, starting with the director of the entrepreneurs' network Oise-est initiative, which first supported the start-up. Of course, they also gave tribute to Jaguar Land Rover, represented by Olivier Andrieu, their first BtoB client, and their second, Nissan, represented by Rémy Le Gall. Le Gall explained on stage how he live-tested the tire-sourcing platform for an unusual tire reference he always had difficulty to find. And there it was! The company kept going and large customers such as Veolia kept coming. Guirard himself was impressed to see such a giant trusting the fledgeling company with the tire management of its 25 000 car strong fleet.
Investors, such as Bpifrance, Jean-Michel Aulas, Jean-Louis Alloin and Generis Capital Partners, who all believed in WYZ' business plan and, more than that, in the company's vision, that of a "facilitator" in the market, came on stage to recall the company's first steps. Many clients and friends were there too. All saluted the Group's success. It shows that WYZ is not only a company, but also a network, where professionals meet. And since WYZ got a lot of support, the company wants to "give back", by helping young start-uppers. Some of them were also on stage to show their appreciation and describe their innovations and ambitions.
Innovation is a pillar of the Group's success. And it is everywhere. For instance, Teddy Riner talked about technology in judo, which takes the form of special glasses enabling the champion to improve his style and holds when training. For his part, Eric Duplanil underlined how much the company invests in R&D in order to build complementary solutions and offer even more agility to customers in the future. 
Values
Finally, WYZ Group wanted to highlight its values. Like in sports, they include resilience, solidarity, and will power. Or the values of judo, as expressed by Teddy Riner: respect, self-control, sincerity. All these values are part and parcel of what the WYZ Group's team is about. WYZ' employees are also sports fans and sports amateurs. After their swimming relay, the WYZ Swim Challenge, which took them from Quiberon to Belle-Ile, Brittany, last September, they will take up new challenges. First, the WYZ Bike Challenge, a 1600 kilometer-mountain bike trek from Lille to Nice, in 2019, and in 2020, the WYZ Run Challenge.