On September 8, the WYZ team left Lille, in Northern France, to ride to Nice, on the French Riviera. It meant 1600 kilometers, in 14 stages, for a relay race that embodies the Group's HR policy, which cultivates team spirit and unity, striving for excellence and success.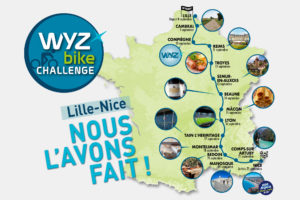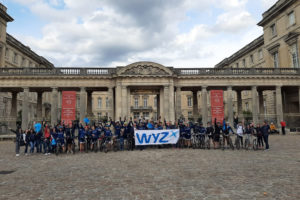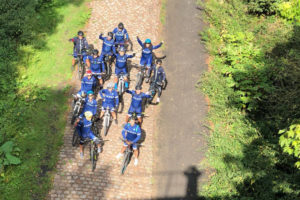 Marjorie Thiphaine, in the WYZ Group's sales and marketing department, says it right away: organizing the 2019 Bike Challenge was quite a … challenge! She had to schedule multiple train trips and flights, book hundreds of hotel rooms, plan food supply and organize for the bikes to be at the right place at the right time, among other things. Her ultimate goal was for the WYZ team to succeed once again this year, after a successful Swim Challenge last year. The relay race took the team from Quiberon to Belle-île-en-mer, in Brittany. These challenges are part of a three-year program designed by CEO Pierre Guirard.
When Marjorie Thiphaine joined the company in September 2018, she knew that organizing the Bike Challenge was to be one of her missions. But she was still surprised at the complexity of it all. "The logistics part was the most difficult," she says. "Each relay team was made of five people, and some took part in the race in the morning but not in the afternoon, and vice versa" she explains. Planning all the comings and goings required never-ending focus and discipline, summarized in a  massive chart she set up to guide her. Needless to say that for many months, Marjorie Thiphaine dedicated most of her energy to making sure the Challenge would take shape. She can be proud of the result: food, water bottles and some 1260 cereal bars were available, as well as hundreds of shirts and shorts for the team members. Cars were available, as well as rented trucks, to transport people and bikes. Furthermore, a manager was there to organize trainings, while a coach supervised them, along with two medical doctors, in order to ensure safety and good health. The team also had a special supporter, French track cyclist Florian Rousseau, three-time Olympic gold medallist and 10-time world champion.
Though some members of the team were already bike fans, others had just discovered cycling. "I like to exercise but only occasionally, especially cycling," says WYZ Group's financial controller Soline Vuatrin. "I have a hard time being motivated. So the Challenge was a real gift, as we trained together under a program designed by specialists. And on top of this, we had a goal, which motivated us even more."
Bryan Dhuiege, who has been working in the IT department for two and half years, already took part in last year's Swim Challenge, like Soline Vuatrin. He is also a real athlete, soccer and tennis being his two main passions, rather than cycling. "I was super motivated," he says. "I told myself that I would do it and I was sure I would." From day one, he supported the three-year program that Pierre Guirard put together for sports in the company. "I like sporting values, which can be applied to work," he says. And after the Bike Challenge, he is already in for the next challenge, in 2020!
For athletes and amateurs, training was key, especially when the goal was to pedal for a total of 1600 kilometers, in 14 stages with a 20 000 meter-elevation gain. Indeed, like it is often the case with the Tour de France, the Bike Challenge passed through the 1910 meter-high Mont Ventoux, in the Alps. Every day, during lunch break, the 25 team members (which represents 50% of WYZ Group's workforce while last year's Swim Challenge gathered 40% of employees) trained every Thursday in the Compiègne forest, near the company's headquarters. And every Saturday morning, they would train together again. "Some even increased their training over the summer, even during their time off," says Marjorie Thiphaine.
Conditions for success
CEO Pierre Guirard belongs to this group of super trainers. Not only did he take part in the race, with Eric Duplanil, who manages the company with him, but the two made sure they surveyed every stage before the race. "We are responsible for the company but also for our employees' well-being," he says. "We had to make sure conditions for success, in particular in terms of safety and health, were there," he adds. For example, before the Alps, when cycling through rugged landscape near the Verdon gorges, he realized that part of the trail was in a no-go military zone…  "We had to cycle around the area, and this added quite a few extra kilometers to the race," he says.
Never mind. Pierre Guirard was convinced that the team would succeed. "Some, at first, didn't realize how difficult cycling is. It is much more taxing that swimming, especially when you have to ride for more than a hundred kilometers at a time. Everybody has the right to be wrong but the most important thing is that all the team members try and keep going," he adds. This is the case for Renaud Terry, who is in charge of corporate accounts for WYZ. He had to stop training for a while, as it was too difficult for him. But he persisted. "Pain brings people together," he says, adding that he is "proud to wear the company's shirt this way." This is, indeed, the goal pursued with sports as an HR tool in the company. Beyond increased self-confidence and engagement, the sports challenges proposed by WYZ Group are designed to reinforce esprit de corps, enabling solidarity and unity to take shape, as side by side, employees ride with the management, and members of various departments cycle together. After the 14 relay stages, the whole team got together for the final ride towards the Promenade des Anglais, in Nice, on the French Riviera. There, the team was acclaimed by other employees, as well as the company's sponsors and clients, who also delegated some of their employees to partly join the race. A symbol of the close-knit community WYZ Group can build, within its ranks and outside.
Pierre Guirard sees the impact of such a strategy in the company's everyday life. Solidarity and engagement is high among employees while turn-over is low.  "All this largely explains our positive wayof managing our growth," the company's CEO says.