An Italian start-up is using old tires to cover concrete sleepers. Apart from recycling, the innovation can produce energy, send data and reduce the cost of maintenance.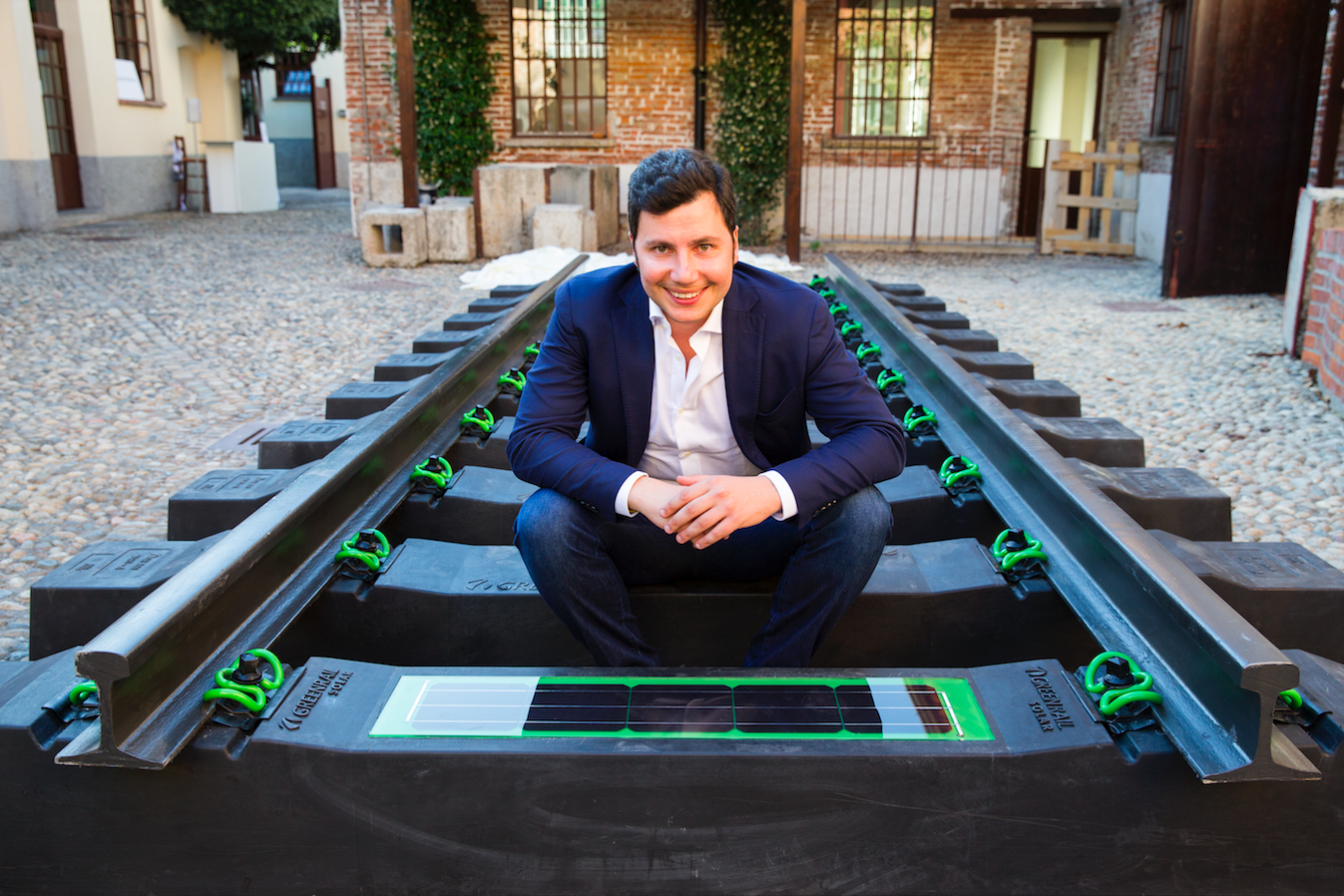 May be it was the sun beating on his head. Or just his creative mind. One day, Giovanni De Lesi, who used to be a railway maintenance worker near Palermo, Sicily, came up with a revolutionary idea. Instead of leaving the sleepers – these pieces of concrete used to keep railroad rails in place – roast in the sun, why not cover them with a mix of plastic and rubber from old tires? Such a system would absorb vibrations when trains are going through and limit the rails' lateral displacement. In turn, it would reduce the cost of maintenance linked to the grinding of the track ballast and even increase the load capacity.
The young man tried out a first mix, with rubber coming from tires collected by the Italian association EcoPneus. He soon launched his start-up, Greenrail, with the support of a business incubator at Milan's Polytechnic University. Engineers quickly figured out the advantages of such an innovation. Apart for lower maintenance costs and substantial recycling – since 17.5 tons of rubber coming from polluting and hard to recycle tires and the same amount of old plastic are necessary for each kilometer of tracks featuring covered sleepers – the cover can produce solar energy if small solar panels are added. Each kilometer of tracks could supply enough energy to meet the yearly needs of a dozen households. With the help of RFID technology, the cover could also collect data to help prevent problems on the tracks. In September 2018, Greenrail inaugurated a first pilot stretch in Italy, with the Emilia Romagna railway company.
Global market
Six years after its launch, Greenrail is now ready to take the global railway sector by storm. For regular maintenance, some 120 to 140 million sleepers need to be replaced every year around the world, including 15 to 25 million in the USA. The Italian start-up, which has already patented its technology in many countries around the world, signed a 15 year-license contract with an American company that was created for this purpose. The U.S. company will commercialize Greenrail's innovation in six American states. In addition, an industrial manufacturing plant, which will soon be operational, will have a production capacity of up to 600.000 covers for sleepers a year. In the process, 8.000 tons of recycled tires will be used. And the Italian start-up is currently negotiating an expansion into promising markets such as India, Russia, Brazil and Australia.